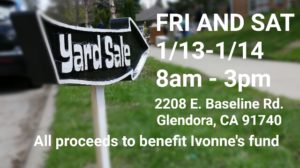 Come join us Friday the 13th and Saturday the 14th of January 2017 in the city of Glendora and support Ivonne by treasure hunting this weekend at our huge yard sale. All proceeds will benefit Ivonne's life saving transplant surgery.
Date: January 13th and 14th, 2017 from 8am – 3pm
Location: 2208 E. Baseline Rd. Glendora CA 91740
There will be food for sale, a lemonade stand and you will also be able to hear about Ivonne's story and her fight against Polycystic Kidney Disease. Come for some community camaraderie and just maybe, find a thing or two you can't live without!
Together we can make a difference and save Ivonne's Life!